We would like to inform that new version of the Enigma Protector 3.0 had been released. Any feedback regarding this version is highly appreciated!
The Enigma Protector 3.0 x86 BETA:
http://enigmaprotector.com/assets/files/enigma_3.00_20110811_en_demo.exe
The Enigma Protector 3.0 x64 BETA:
http://enigmaprotector.com/assets/files/enigma64_3.00_20110811_en_demo.exe
This version has a major version number change, why? This version contains completely new algorithm of Virtual Box feature! Virtual Box now is much stable, has a better virtualization support, added registry virtualization and external packages support!
The probably minor disadvantage of this version – Virtual Box has lost Win9x support. Protected files are working well on Win9x after protection, just Virtual Box will fail to find virtual files.
Registered users of Enigma Protector may contact to support team at support@enigmaprotector.com to get the Enigma Protector 3.0 full version.
Easy interface for Files Virtualization! Keep your files secure without having them on the disk! Any kind of files are supported! Virtualize of the files to eliminate 3rd party dll dependences!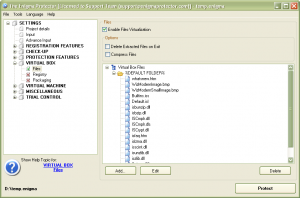 Make portable applications! No changes of system registry with the Registry Virtualization feature! Keep registry data securely! Register any ActievX and COM libraries without administrator privileges!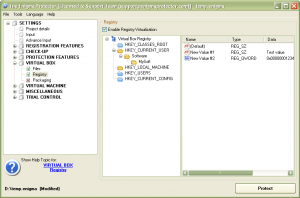 Modify and embed virtual environment by using External Packages feature! Make you application flexible and keep easy up-to-date!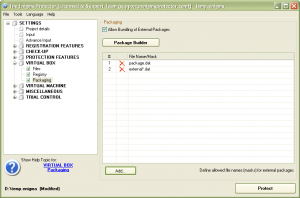 Note, functionality of Virtual Box feature is also existed in our freeware application virtualization solution – Enigma Virtual Boxhttp://www.softwareprotection.info/2011/08/the-enigma-protector-3-00-ultimate-software-virtualization/